TRAILO.IT PRESENT:
MARTIN JULLUM
(Interview by Stegal)
Q: The first question is always the simplest: we are interviewing you for what reason? Let me explain ... Are you a player of football national team and at the same time a Chess Grand Master? No, that was Simen Agdestein! Did you win an edition of "Skal Vi Danse?" and you had some Grammy Award? No, those were Madcon! But give me another chance... maybe are you an orienteering champion? If so, tell us something about your career, results... and about your life of course!
A: Yes, that's correct!. My name is Martin Jullum, I am 23 years old and I am currently a master student at the University of Oslo, studying mathematical statistics. I compete in trailo for Halden SK, which is the club I have competed for my whole orienteering career.

Q: Yes, I know that you are member of Halden Sk; when I has been speaker at Andalusian O-Meeting 2011 I said that Halden SK is like Real Madrid in football. Before you start thinking about who can be FC Barcelona, tell us how it is to be teammates of Olav Lundanes, Anne Margrethe Hausken, Emil Wingstedt, Galina Vinogradova (and my friend Elena Roos too...)., and what they say when they think being teammates of Martin Jullum!

A: I have never though of my club as the orienteering equivalent of Real Madrid, but of course it is a "famous" club (If you may call an orienteering club famous) with a great history and lots of great runners. They are all great teammates, and their achievements makes me want to improve even more, in my sport. They also makes it more fun and interesting to watch 10-mila, Jukola and the World champs when your friends and teammates is in the top. I guess the runners are happy when they hear about my performance as well. I always feel welcome and appreciated when I come home to "Høiås", the club hut of Halden SK. Here there are trainings and socialization every Thursday all the year round. Being part of this big orienteering family, gathering the youngest children up to the absolute orienteering elite along with the orienteering veterans of the club is really special and gives me the extra boost I sometimes need.
By the way, I do think that Kalevan Rasti might be FC Barcelona... (or maybe Selkien Sisu?)

Q: At the last WTOC, you won the Temp-O competition, but maybe you were much more focused on Pre-O World Championship. Could you tell us something about your experience at last WTOC?

A: I was of course much more focused on the actual World Champs. I had prepared much for that competition. The way it turned out with my individual result, especially the first day, I was probably thinking too much. I did 3 mistakes, which I have divided into three categories, one bad decision (Z on n. 2, day 1), one bingo control (D on n. 10, day 1) and one too quick decision (A on n. 5, day 2). I am not happy with this result at all, but I think my level as of August 2011 was just one more point, (and probably quite a bit faster) - then I would have been on the podium where I was the two previous years. With this I mean that the current level of international trail-o is so high that in my case, one bad decision is the difference between a successful result and a disappointing result.

But even if my individual result was not the best, the team competition went very well. We got the silver medal which was way more than what we had ever hoped for. All the team members (Lars Jakob Waaler, Arne Ask and me) did very good performance on the second day, so it really was a team victory. And I must say that beating Sweden made the feeling even better... :)

Q: Obviously, let us know something also about the Temp-O competition and your astonishing victory with a fantastic overall time (I did the same competition... my result has been something more than one thousand seconds! Please don't comment my result...)

A: Because I maybe did think too much the two previous days, my tactics for the temp-o was to go back to the basics - to not over-think, but make it simple. I also knew I had to speed up a lot from the timed controls the previous days, when I used over a minute both days. I had decided just to go for it this day. I have learned that you can't win anything if you don't go for it, especially when it comes to tempo. I was also much more relaxed before this event than the world champs. Of course it was not optimal to be sitting in a 2 hour queue before the start, but this was the same for everybody.
I had such a great feeling through the whole course, I was answering fast when I had made up my mind and managed to slow down and to use the extra seconds when I was not sure at once. I just did my thing and it went very well. After the finish I had a feeling that this was a good competition with no idea that it actually was as good as a winning race. Firstly, when the results got up, I was in 3rd place, which I was really satisfied with, but as I checked my score I could only find two mistakes, not three which would give me the score on the result list. I told the organizers and was of course very happy when they told me that they made a punching mistake and I was the winner.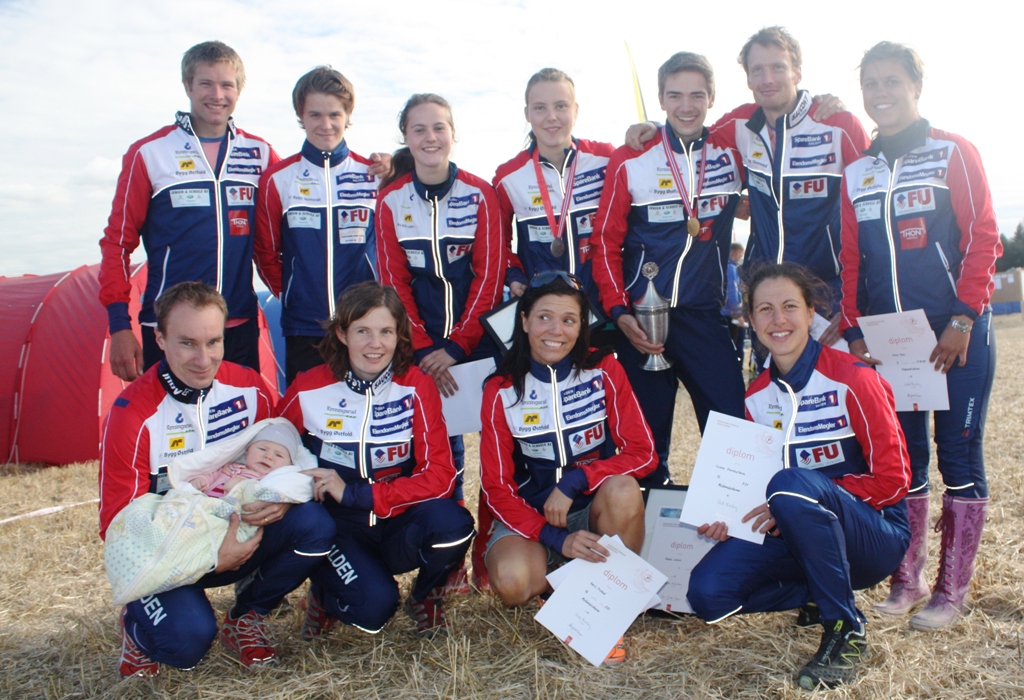 Q: I have to say you that I asked to the trainer Mr. Vinogradov to became a member of Halden SK... he replied that I have to slim down a bit first ... This means that all members of Halden SK are very strong, including the pre-o athletes as your example shows? He is the trainer of Halden SK: do you have a specific trainer in Halden SK for Pre-O? Do you collaborate together to increase your general level? If so, what about the ability in Pre-O of Lundanes, Hausken and so on...?


A: I do not have my own pre-o-trainer in Halden. Since I live in Oslo and I am not in Halden more than once or twice every second month or so, so I don't train much together with my teammates. Of course specific trainings arranged by someone in Halden would be great for me, but as of know I think the knowledge of the skills necessary to perform in pre-o is not good enough for me to gain anything from such a simple training. Maybe we could work something out in the future, for me to take the extra level up to the
individual medals.
Of course some of the best elite orienteers also have good abilities in pre-o. Emil Wingstedt won the first competition in pre-o he entered. It was at O-ringen in Sälen 2008, when I was more of a beginner. (I did however beat him later in the week...); Olav Lundanes tried pre-o for his first time at Norwegian Spring this spring, and also he did win, with all the best Norwegians and Swedes at place. Now I just have to talk Olav into trying pre-o again, so that he can be beaten.

Q: How do you train yourself to obtain those results in Temp-O? Do you have a check list in your mind when you listen "Time starts... now!"? Can you share with us your secrets?

A: I don't have any kind of list I go through for each control, because I guess such a tactic would be too slow. I generally try to read some of terrain before I get the map by looking at the terrain as I enter the chair. I also check the direction of north before I get into the chair, but I guess that tactic is quite common. I have tried a few other techniques on time controls/ tempo, but none of them with great success. I think the most important is to psychologically find the "the flow".

Q: And, of course, how do you train in general for Pre-O competitions? Do you also compete in Orienteering (intended as traditional orienteering)?

A: My training consists mainly of competitions in Norway and Sweden almost every weekend from April to October, with a little less in the summer time. In total I compete in about 40 competitions a year. I also plan a 2-day competition (Norwegian Spring) which is held early in the spring. Planning this competition makes me prepared for the season with lots of contact with the forest and maps, even though arranging such a
competition requires a great effort and much of the work cannot be "cashed out" in improved skills.
I used to do traditional orienteering, but I was forced to retire five years ago, because of stomach problems making me unable to train as I wanted to. I then discovered trailo three and a halfs year ago, and have thus been stuck with this.

Q: Marco Giovannini, inventor of this website, is a strong supporter of Temp-O; he believes that in the immediate or close future, by number of participants or guarantee of spectacle, Temp-O could or must take place of traditional Pre-O. What is your opinion?

A: I personally like the traditional pre-o the most. Temp-O is great fun and very demanding as well, but as the format and course setting is not perfect for the discipline yet, I still prefer the traditional one. The traditional pre-o-course is like the long distance of regular orienteering, and hence the most challenging and respected discipline, in my point of view.
I personally have a suggestion to make the format of temp-o better: The suggestion is that the answer "Z" in temp-o needs to be on different features, and I do not just want this to be in some official guide line of temp-O, I want this to be a rule of the tempo-competition that must be followed in IOF-competitions. I think such a rule can prevent the course setters of the coming world champs in temp-o from making marginal zeros. (say e.g. 60 degrees wrong by the side of a boulder.) zeros on the same feature as the correct control will in most cases turn the competition more into a guessing game than speed orienteering competition.

Q: I don't know if you read on www.trailo.it the interview made by myself with Mr. Kucherenko, new World Champion in Paralympic Class. Do you agree with the opinion of the Russian team about the need of an Open Class or not?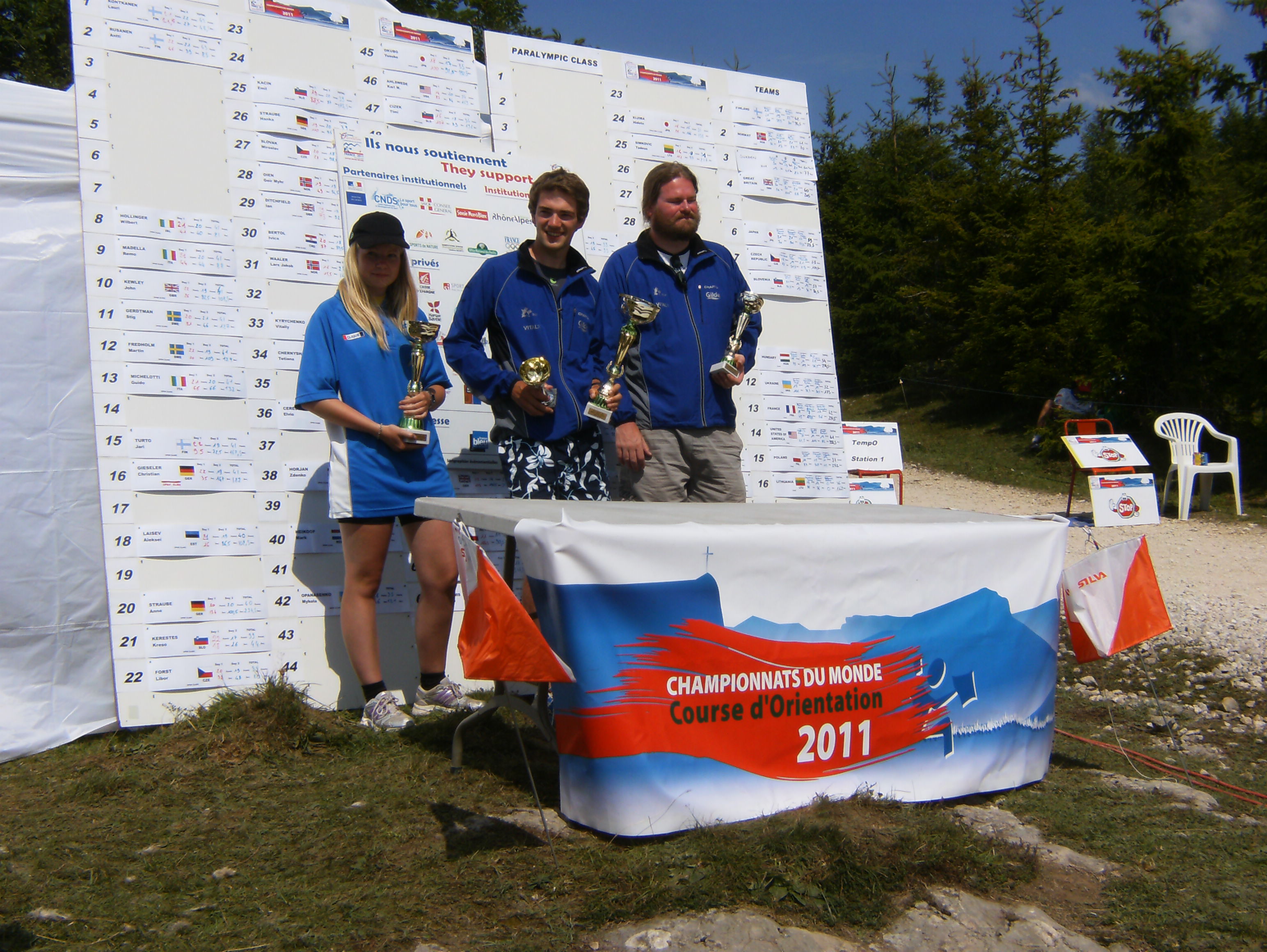 A: I don not agree with Russians. If there where no open class then there will be none (or at least very few) that would want to make courses and competitions. In Scandinavia there are very few paralympic class competitors, at least according to the new rules. If the competitors not certified for the paralympic class had no World champs to go to I am quite sure the whole sport would just die out because of the lack of competitors. I honestly cannot see one good argument for not allowing open competitors to compete in
the World champs etc.

Q: At La Feclaz, I saw you talking with Marit Wiksell, the younger competitor from Sweden. I think you and Marit are among the youngest competitors. What should be introduced in Pre-O, or what has to become, to attract more young people?
A: Yes, Marit is actually my girlfriend, and I guess we are some of the younger ones. Our Finnish friends Lauri and Antti is a bit younger than the rest. To attract the young generation, I think temp-o is the best way. Don't change anything, just get better, more precise maps and organize tempo-competitions in the same arena as a regular orienteering competition, and the younger generation will come.
Actually, the 17 years old Norwegian Martin Waaler has taken part in most competition along with his father Lars Jakob Waaler the last few years. I think he is one of the youngest active competitors, and he might very well qualify for the european champs next year in Sweden. Maybe we should ask him why he keeps coming back all the time?

Q: Last question: in 2011 we had in Cavalese an edition of National Championship with the swedish team. Do you think that sooner or later you too will participate in a competition in Italy? And what do you expect from this?
A: I really want to compete more on the continent. I wanted to go to Italy this spring, but we also had a competition in Norway this weekend, so I choose that instead. The next year I will also study only 66% of full time at the university, so I will have more time to compete in other countries. If you have at least 2 competitions on a weekend with no other competition in Norway or Sweden I will definitively consider going there already next year.
From Italian trail-o I would expect good maps where sighting lines are the clue for solving quite a few of the controls.